I have been getting into the retro look recently, inspired by movies such as 2001 A Space Odyssey. The rounded edges and creative use of fabrics gives rooms a unique look. So here are a few items of furniture that are on my wish list.
The red bucket seat below is top of my list. It has that retro look but also appears to be a comfortable chair which could be used for dining. It is available from the swivel chairs collection at Fabulous Furniture.
If I could afford it I would certainly go for the pod chair below. The Alpha Lounge Chair isn't too far off a thousand dollars. I've always loved pod chairs but never really found them too comfortable for long periods. This one features arm rests which should mean more usage.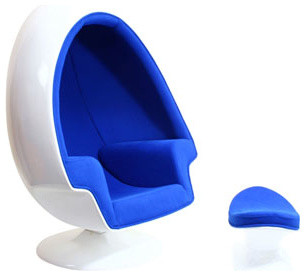 Below is a piece I really like. It reminds me of the seating in a classic car from the States. I'm not sure where to buy it but more information can be found here. It doesn't quit fit into the red colour scheme I'm going for but I am saving this one for the future.